Feta Cheese Salad (Greek salad recipe)
Feta Cheese Salad Recipe | Greek salad recipe. If you are a healthy and tasty salad lover, then Feta Cheese Salad is a great recipe for you. In this, you will find a mixture of green vegetables, tomato, lettuce, and onion with cheese, and lemon juice will increase its flavor. It is a better option when the guests arrive for lunch, dinner at special parties. This Greek salad is very low in calories and is a nutritious diet for those who want to lose weight. You can eat this salad with food, take it in children's tiffin or office tiffin.
This Greek salad made with feta cheese is very easy to make, you can also add vegetables of your choice like cucumber slices, cherry tomatoes, or beans. Dressing in olives, herbs, and lemon wedges.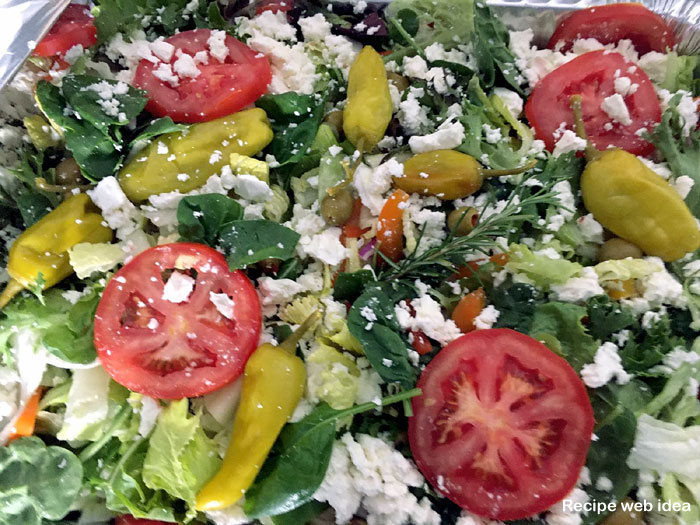 Preparation time              10minutes
Total time                            10 minutes
Cooking time                     no cooking required
Serve for                             04
Difficulty level                   Easy
Course                                  Salad
Cuisine                                 Greek Cuisine
Calories                                139 calories in 1 1/3 cups
Feta Cheese Salad Ingredients
Feta Cheese                       1/2 cup (crumbled)
olive oil                                 02 tablespoons
Tomatoes                            4-5
Onion                                    03 big size
Greek olives                       ½ cup (Chopped)
Lemon juice                       2 tablespoons
Romaine lettuce               01 Bunch
Black Pepper                      1/4 Spoon
Fresh coriander leaves  02 tablespoons
Rosemary leaves              02 tablespoons (optional)
Cucumber                           03 (Chopped) (optional)
Salt                                         as needed
How to make Feta Cheese Salad Recipe (Greek salad recipe)
Boil feta cheese
To make Feta Cheese Salad Recipe, first of all, boil crumbled cheese 1/2 cup in a big and deep pan and keep it aside.
Chopping veggies
Rinse all veggies thoroughly with cold water, pour these vegetables in a paper napkin and blot. With the help of a chopping board, cut or slice tomatoes, onions, and Greek olives into small pieces. So cut the lettuce to a certain size.
Mix all ingredients
In a large bowl mix all the chopped vegetables and feta cheese (crumbled) well, add olive oil, and 2 tablespoons of lemon juice and mix. Add rosemary leaves on top and serve fresh. Read also.
Serving idea
You can serve it with any beaten bread, Mediterranean recipes.
Suggestion
We have not used salt to keep the Feta Cheese Salad crisp and fresh for a long time, if you add salt then the cucumber and tomato starts to drain and become soft. You can add salt to your taste.
If you want to use salt, then add salt when serving Greek salad.
Main ingredients
Feta Cheese, Olive oil, Tomatoes, Onion, Romaine lettuce, Fresh coriander leaves  Salt as needed.
Keywords
Feta Cheese Salad, Greek salad, Feta Cheese Salad recipe, Greek salad recipe.
Read also:
How to make Tostada, Mexican recipe. Pad Thai noodles recipe step by step.
For pin